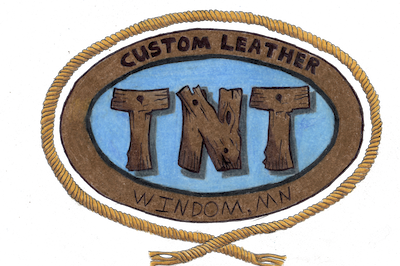 We are a small business located in southwest Minnesota near Windom, and we pride ourselves on providing customers with the best-quality products and personal service. Each product is cut and made from start to finish by hand, which allows us to be versatile and able to work around each customer's individual needs.
We look forward to doing business with you at TNT Custom Leather; we are dedicated to providing high quality custom leather holsters, magazine holsters, accessories and other custom leather goods by request. We look forward to providing you with the finest handgun leather products for conceal carry. Were also doing saddle repair for our local customers
We take an enormous pride in creating our products, and will stand behind our products and will guarantee materials and workmanship to be free of defects. We will repair or replace item if need be. If you should have any concerns or problems with our work we want to know so we can make it right. We want our customers to be satisfied. We would also love to hear from you if you're satisfied.
We also can create custom orders; email and let us know what your looking for and we will try to accommodate you.
Please keep checking back as we will continue to update this site with more options, pictures, and holsters styles.